Royal Challengers Bangalore, the only IPL team which has the most loyal fan following across and there is no exaggeration to it. RCB fans are so awesome that every other IPL team wants to have one of that kind. Be it win or loose, RCB always had their fans coming to their support. Have you ever tried messing with RCB fans? You better don't.
They are over-enthusiastic, over-possessive, and over-motivated, all the time and that's how the fan craze should be. You don't have to be a Bengalurian however if you possess these 18 traits then you're already an RCB fan at heart.
1. You don't bleed Red. You bleed Gold and Red.
2. You are a Committed RCB Fan for your lifetime.
3. Virat Kohli and ABD are your favorite Batsmen.
4. Every time Virat hits a century for India, you hope that he'll continue the same magic in RCB too.
5. People tease you but you still defend RCB like Modi defending Acche Din.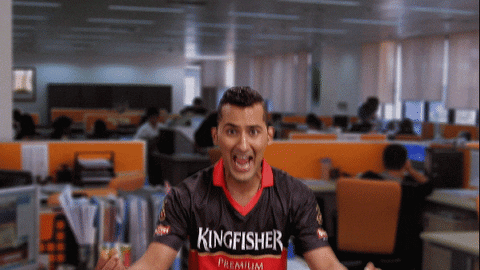 6. You know everything in detail; strike rate of Virat Kohli, the economy rate of bowlers and most importantly, you know that #EeSalaCupNamde.

7. You are an expert in trolling CSK Fans.
8. In a match between Mumbai Indians and Chennai Super Kings, you support Mumbai Indians.
9. If RCB is playing Bold on the grounds then you play Bold with CSK Fans.
10. You don't miss a chance to visit Chinna Swamy stadium when RCB is playing in Bengaluru.
11. You have at least a pair of RCB T-shirt with you.
12. You know Danish Sait as Mr.Nags.
13. Karnataka is your MOM and that's the reason you support RCB (In most cases).
14. Only you know the real meaning of staying motivated and hopeful.
15. If we are not wrong then you have posted all the updates of RCB in IPL auctions on your Facebook timeline.
16. And you are not happy with RCB's choice of players in IPL Auctions, 2018. Are you?
17. You know that you gonna miss Gayle, K.L Rahul, and Manish Pandey in the team.
18. You believe in winning hearts than winning games. How Noble!
Now, say. Are you a Red Hardcore RCBian?
Recommended: 22 Signs You Are A True Blue Bengalurian
Like MetroSaga on Facebook | Instagram
You can also Subscribe to MetroSaga for newsletters.