The former cricketer from Pakistan, Shoaib Akhtar became a butt of trolls for his 'foot in mouth' comment on Virat Kohli and Anushka Sharma. The popular sportsman went on to say that Virat's marriage to Anushka was harmful to his career.
He spoke about how he 'wanted Virat to keep scoring 100-120 runs and keep the focus on his batting.' Shoaib Akhtar added, 'Virat captained for 6-7 years and I was never in favor of his captaincy, I just wanted him to keep scoring 100-120 runs and keep the focus on his batting. I would have not even married if I were in his place. I had just scored runs and enjoyed cricket, these 10-12 years of cricket are different times, and don't come again, I am not saying getting married is wrong but If you are playing for India, you would have enjoyed the time a little. Fans are crazy about Kohli and he had to maintain that love he is getting for the last 20 years.'
Virat Kohli did not give up the captaincy himself, he was forced to do so: Shoaib Akhtar pic.twitter.com/W4nzmMNqVh

— The Times Of India (@timesofindia) January 23, 2022
These comments did not go really well fans there was a huge uproar from Virat Kohli's fans and this was also the time when Vamika's pictures surfaced online and people lost their minds over the same.
Here are some Twitter reactions against Akhtar by Kohli fans.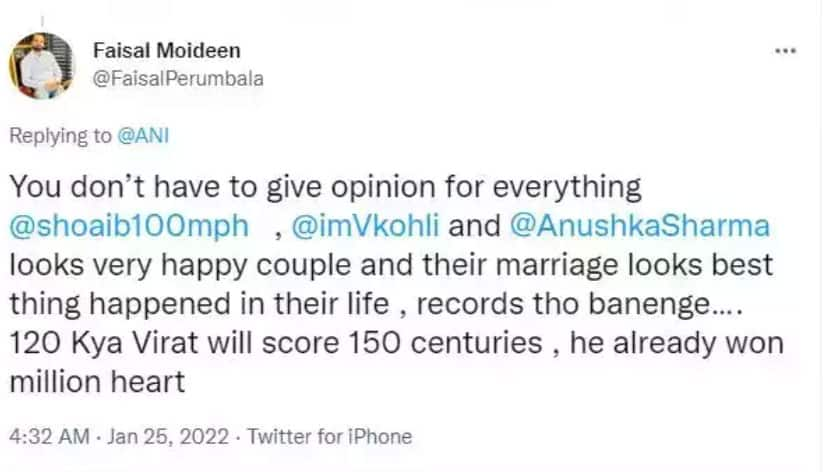 But you are not virat kohli!
So live and let him live!#ShoaibAkhtar pic.twitter.com/boDHitBNMx

— Shruti S. (@Shruti_speaks) January 24, 2022
Akhtar was also seen commenting on the Kohlis' captaincy where he said that there was lobby against Kohli and hence he had to resign.