Army Major Ketan Sharma in his last Whatsapp text to his family said, "Maybe this is my last photo" as he was preparing to take down terrorists in J & K and Anantnag. Sadly, it indeed was his last photo.
But the message does indicate one thing about him that even though he was quite aware of the situation around him and the possible consequences, the Army Major had accepted it and was ready to face it. This speaks a lot of the bravery of Indian soldiers who are willing to fight for the country even if many times they are sure of not returning back.
Family Waited But Got The Bad News Instead Of Reply  
To the text of Ketan Sharma, the family replied that they are hoping that he would be fine and waited for a response. But there was no reply. Instead, a few hours later, two Army men gave them the bad news that their son got injured during the encounter and died as a result. When his remains reached Meerut to his family, the entire city came to grieve the valourous army officer.
Meerut: Family of Major Ketan Sharma mourns his demise, at their residence in Kanker Khera. The Major lost his life in an encounter with terrorists at Anantnag in Jammu and Kashmir yesterday. pic.twitter.com/4xvWnZcA9t

— ANI UP (@ANINewsUP) June 18, 2019
#WATCH Army personnel console family members of Army Major Ketan Sharma who lost his life in Anantnag encounter yesterday. His mother says, "Mujhe batado mera sher beta kahan gaya? " #Meerut pic.twitter.com/Rl3wnpQ5gd

— ANI UP (@ANINewsUP) June 18, 2019
His mother was the most affected who could not believe that her son had indeed gone.  Thousands came to pay tribute to the 29-year-old army officer who was killed in South Kashmir district of Achabal area. During the gunfight, a militant was also killed and it was followed by cordon-and-search operation by the security forces in the surrounding area.
Paid tributes to Major Ketan Sharma who made the supreme sacrifice while fighting against the terrorists in Jammu and Kashmir.

Major Sharma fought valiantly like a true soldier. My heart goes out to his bereaved family. pic.twitter.com/gJCcqEtFwD

— Rajnath Singh (@rajnathsingh) June 18, 2019
Defence Minister Rajnath Singh and Army Chief General Bipin Rawat also paid their tribute to Ketan Sharma at the Palam airport in New Delhi when his mortal remains were being taken to Meerut. He will be cremated in Surajkund and will be accorded with a gun salute by his colleagues.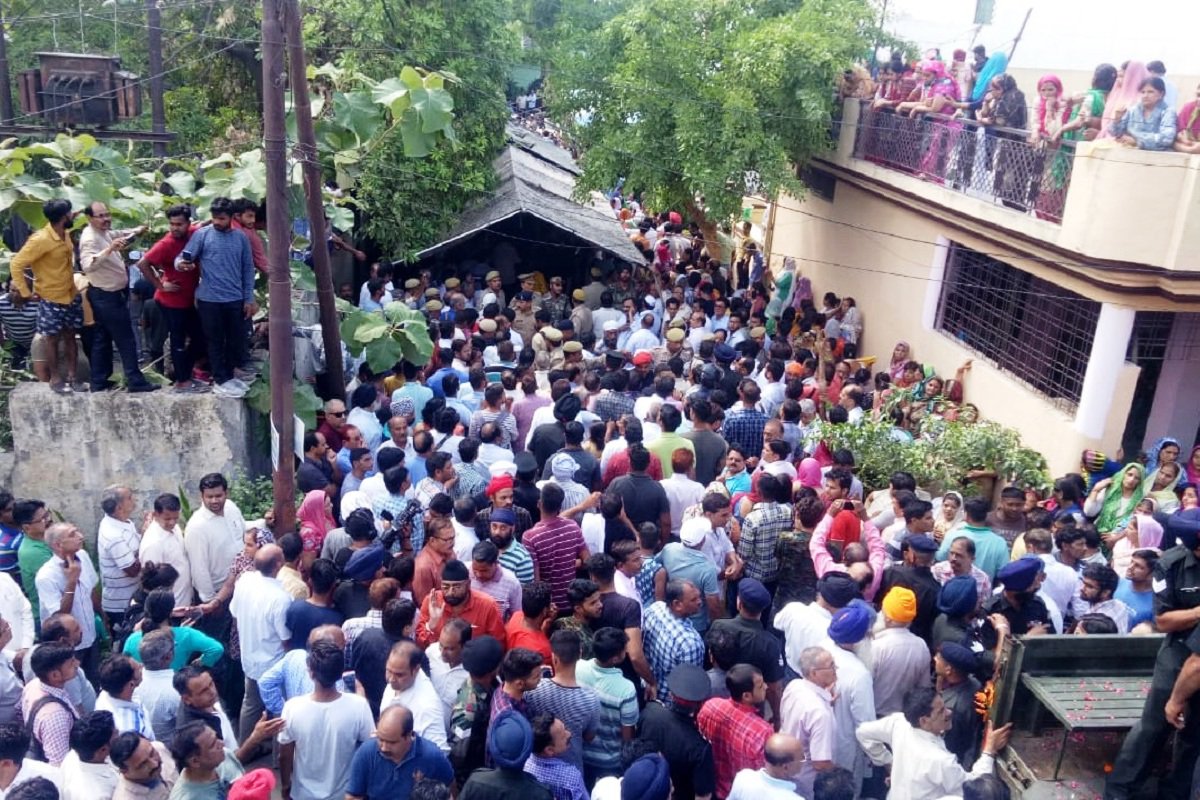 Thousands Came To Pay Tribute
Thousands chanted the slogans Desh ka beta kaisa ho, Ketan Sharma Jaisa ho as they paid their tribute to Major Ketan Sharma. The angry crowd asked the Modi Government to take strict action against Pakistan and those protecting such terrorists and act of terrorism.
Senior officers also consoled the Sharma family whereas the State Minister Suresh Rana also paid a visit to Ketan Sharma's house.
Commissioned in the army in 2012, the army major was bestowed with the responsibility of Counter-Insurgency in the valley two years ago. The 1987-born officer was inducted into Indian Army's 19  Rashtriya Rifles and leaves behind his father, mother, wife and a daughter of 3 years. The entire India Army also paid their salutations to Ketan Sharma.
#ChinarCorpsCdr & all ranks salute the supreme sacrifice of Maj Ketan Sharma, the gallant officer, who was martyred fighting terrorists in Op #Badura (#Anantnag) & offer condolences to the bereaved family #Kashmir #IndianArmy @NorthernComd_IA@adgpi@easterncomd@WhiteKnight_ia pic.twitter.com/0fhpFTKiPV

— Chinar Corps – Indian Army (@ChinarcorpsIA) June 17, 2019
Comments
comments